How To Get Your Music Into Movies and TV Shows
Feb 23, 2023
Getting your music into movies and ads may not be just a ticket to fame and a better reliable reach, but also a source of income. Many songs that went viral on different social media platforms have even been used to create mixtapes on Netflix and Amazon shows.
Before we get into the details, you should be aware of sync licensing. Have no clue? Check out our article on Sync Licensing 101.
Now that you got your basics right, let's dive in!
The quality makes all the difference
If you've noticed, all the OSTs in any series or movie always have top-notch audio quality and production work. Make sure your sound design is really good, and you've got a good-quality track down. This includes quality production, mixing, mastering, and so on, which ultimately makes all the difference. If your production quality and the mix sound a little muddy, then you will need to work on that effectively. With the internet, finding professionals, or even production tools to help you make your track top-notch isn't that hard, you could easily find affordable methods through research.
Networking
This just doesn't mean socializing and getting their professional email IDs at gigs and shows you may attend. Networking also alludes to the fact that you connect with them regularly and they are aware of what you are doing with your work. You have complete power and can select whom you want to collaborate with. You are also entitled to keep the whole sum (the benchmark is 50 - 50 breakdown with library services and publishing companies, which is not small).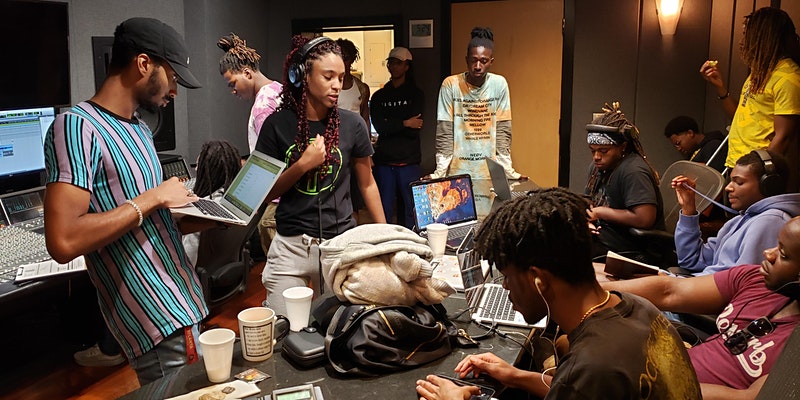 If you wish to develop long-term relationships in the field, you must demonstrate dependability. Music managers and film producers must be able to rely on you and trust that you'll accomplish your goals. Slow and steady ensures that you do not become exhausted.
Research
This is not your typical Google Scholar research or connecting with third-party companies that have access to professionals working in the entertainment industry. This is purely paying attention. We will tell you how.
For example, you've just watched a nice feel-good movie on Netflix. You loved the sound score and the tracks they used in the film. Now, this is where it gets crucial.
Don't skip the credits

- Unless you are a Marvel fan, there are high chances that you may skip the credits. Don't, because here you can find the professionals who worked on putting together the playlist for the film, who may be called Music Supervisors, Music Directors, and so on.

Get their contacts

- You could search for them on social media platforms, or through IMDB and get in touch with them. Many musicians would like to prefer an informal conversation at first, but we recommend that you start off with getting their work Email ID and connecting with them through Email only. This makes a far more lasting first impression that shows your determination and sincerity.

Draft your email

- Compose an email with all the necessary details, requesting the Music Supervisor/Director to check your music out. Maintain a tone that is friendly, yet professional, and try to pitch your music the best way you can. Read our blog article on

Do(s) Don't(s) when pitching your music to curators

to know what is pitching and its importance.
Here is the step-by-step visual representation of how to get contact details of Music Supervisors, arrangers, and so on through IMDB. You could search for the show's name on Google and click on the IMDB link to know more.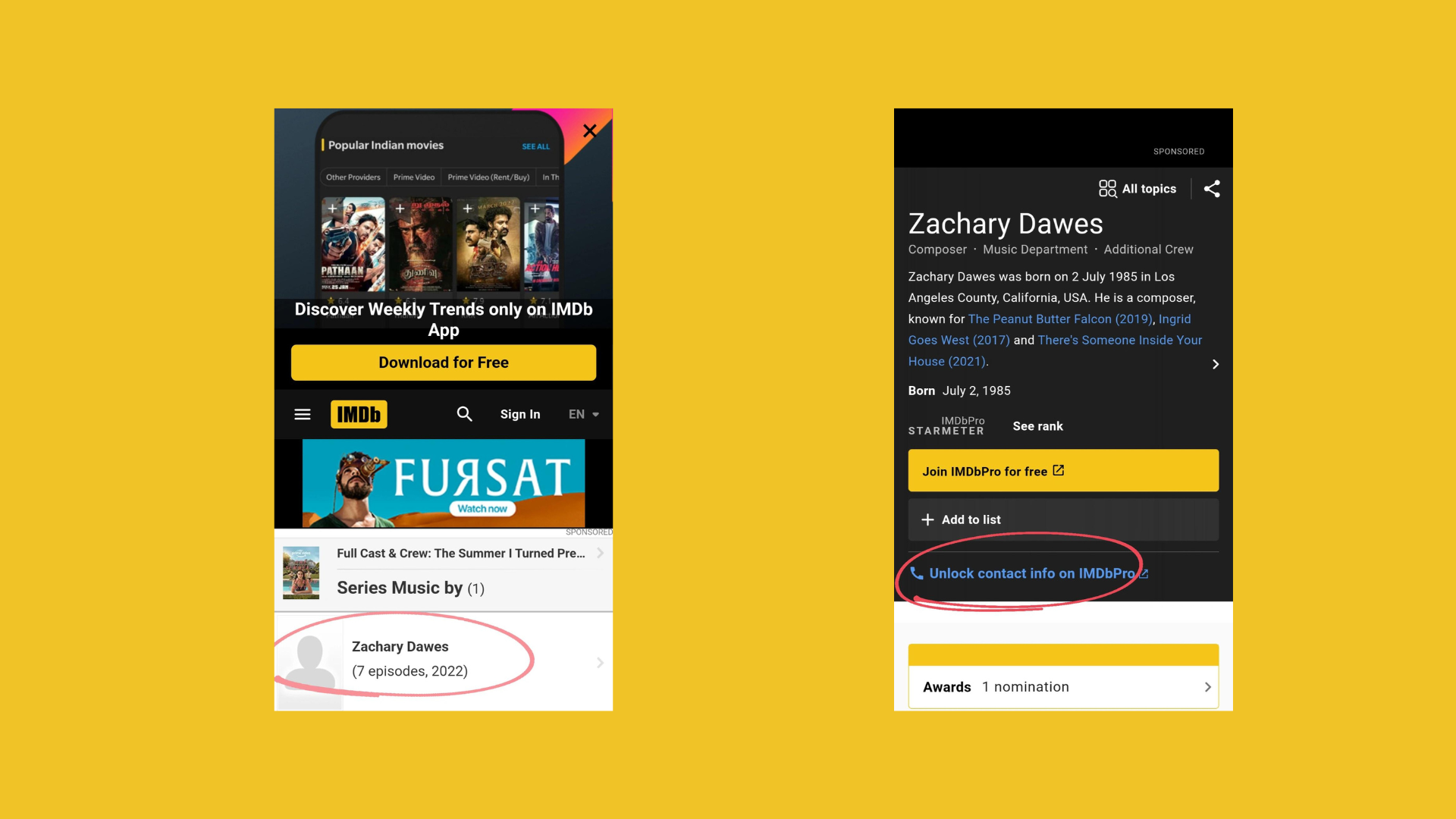 You could also search for them using social media, like Instagram here. Most often than not, these Music Supervisors would mention their contact Email ID or leave his or her manager's email ID in their profile bio.
Don't attach your resume and a cover letter like how you would if you were applying to another job, but since it is essentially about them paying attention to your email, make sure that your subject line is quirky and a great email opener, and try to make the introduction to yourself and your music brief, precise and creative. The advice you should always follow is that try to represent your music and you as a music artist, in the most authentic way, that should feel like it is, YOU. In an effort to make your songs saleable to these professionals, don't lose the hold on your originality. This way, not only will you make them listen to your music, but also give a solid reason as to why they should, in the first place.
The Music Supervisor of the show Breaking Bad, Thomas Golubić, answered a lot of questions about the mixtape they made for the series and the evolution of music as different seasons came about, on Reddit. In the thread, he asserts that as a music supervisor, he was always in search of new music and new artists he could collaborate with. Assuming that this is the general course of other music supervisors and directors (to hunt for music as well as make music that best suits the concept and story of the film or series), you as an emerging musician could make full use of this demand-supply situation in the entertainment industry.
Another valuable insight into this is that earning royalties also depends on which group is going to ultimately own or share rights to the song once it is used in the movie or series. For Breaking Bad, Sony Music Entertainment played a huge role in not only accommodating a lot of new artists but also negotiating what they can and can't do with sync licensing, rights, shares, and royalties. The supervisor informed; the show itself was a poorly budgeted project in the beginning so when they were bringing in new music that sat well with the storytelling of the series, they were also very pragmatic with their offers and deals with the music artists.
Music blogs
Yup, this helps. Not only getting your music uploaded to music libraries is important, but getting a limelight on prevalent music blogs, be it in reviews, press releases, and so on, really does make a difference. The supervisor of Breaking Bad said so himself - "All music supervisors check out music blogs and if we are excited about hearing something from Hype Machine or a blog we love, we will chase down the contact for licensing."
If you are new to this marketing scene, check out the 'Full-Time Musician Gameplan.' Don't forget to get your new tracks playlisted. Submit them to our submission platform and get a chance to reach more than 2 million listeners!
Don't miss my newsletter!
Join me on a music entrepreneurship journey with new tips and tricks delivered straight to your inbox.
We hate SPAM. We will never sell your information, for any reason.