Top 5 Music Submission Platforms and Websites
Nov 09, 2022
Music Submission Platforms For Musicians
Do you want to get your song playlisted and get millions of streams on Spotify? If yes, then you've come to the right place. In the age of the digital world, streaming music has become more than just a hobby, but is a reliable source of income for the music artist. Getting playlisted acts as a catalyst for gaining a bigger audience and increasing your pay per stream on Spotify. Speaking of pay per stream, read our blog article: Spotify Pay Per Stream: How Does It Work?
Finding the right space to pitch your tracks to get playlisted can be difficult. Such a space is called a music submission platform, where you could send potential playlist-able music to playlist curators.
Figuring this out is a long process but we've made the job really simple for you. Here are the top 5 music submission platforms and websites where you can submit your tracks and get in touch with playlist curators on Spotify!
Submithub
This is by far, the most transparent platform you can get. In simple terms, you pitch your track, give in all necessary details, choose the curators you want to send your music to, and also, if you choose to get feedback, you can select what kind of feedback you want from the curators! To pitch a song, it may cost you from 1 to 3 credits, and here, to get one credit, you need to pay around $1 depending on how you buy those credits, just once or in bulk.
SubmitHub presumably has the biggest group of playlisters. As of writing this, they have 2,895 dynamic curators, this includes music blogs, radio stations, and record label representatives, in addition to a lot of Spotify playlisters.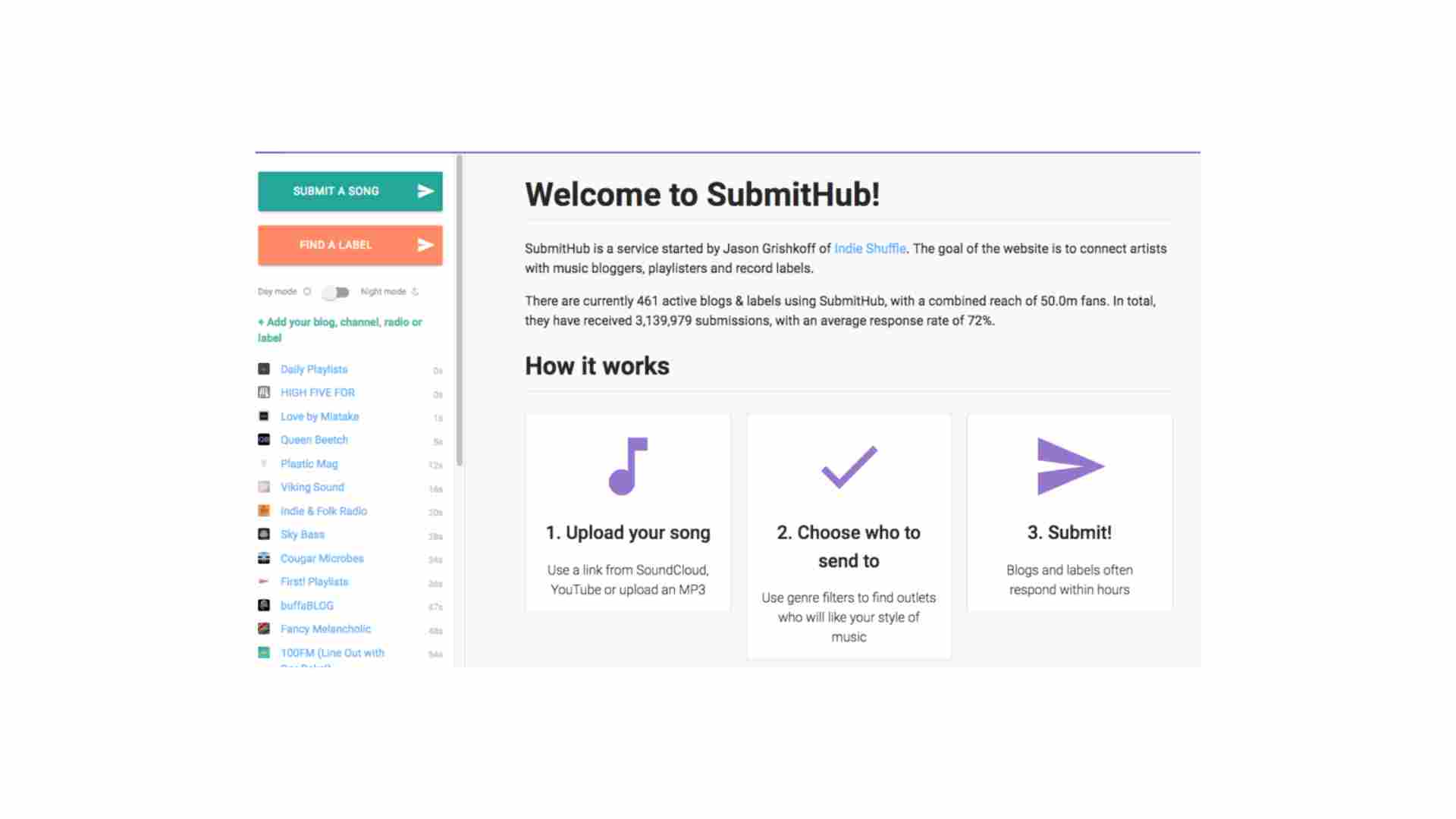 Before pitching in your track to any curator, you can check their history, and what genre they share the most, and Submithub gives you a complete company/curator profile analysis to let you know if it is the right choice or not. The only possible downside to Submithub is that since there are so many curators and playlisters, finding the right ones for your music may be really difficult. Plus, it is extremely transparent so you may come across feedback that may be vague, pointless, brutal, and honest. Nevertheless, it is by far one of the best platforms out there.
Groover
While there aren't exactly as many playlisters on Groover as there are on SubmitHub, there are as yet a lot of curators on Groover. The site at present records 1,675, which is pretty amazing if you look at the big picture.
It's obvious that Groover is a Euro-centric submission platform; the organization is situated in France. However, it includes a critical number of outlets from different countries, as well. Groover is more stubborn about proposing curators for you to submit your music (according to your preferences), and they don't offer a great number of filters for you to bring down your choices the best you can. It's somewhat more stripped down, there's less customization.
Groover is a strong choice for presenting your music to playlisters, particularly if you're a European-based musician. It has a pleasant organization of curators, it's genuinely straightforward, and it's exceptionally simple to utilize.
Greaserelease
Greaserelease is a playlist company that has its own submission platform. We actually made things very simple with our submission platform. The benefit of our submission platform is that it's an easy 1-click submission platform and all artists have to do is fill up a very basic form, as you can see below. There are no filters, no third-party activities, and no confusion in the process of this submission. Once you submit your music after filling out the form, the track will reach our A&R team.
There are only 5 curators on our platform, Greaserelease, Lazy Frenzy, Sugarcoat, The Skadoosh, and ChillTracks. So, when you submit your track to us, you will be submitting it to these curators. One track submission shall cost you $17. Any tune you submit goes out to 80-90% of the playlisters on the platform. We have a committed A&R group that helps target tracks to curators and playlists and a major chunk of our income goes back into paying our curators and advertising our playlists so you, the musician, can get a ton of streams the day you're added to any of the playlists.
There are two things that can happen once you do submit a track, one, is that one or more of our curators love the track and add it to any of their playlists, or two, none of them find it to be a good fit and send you a well-crafted, honest, in-depth constructive feedback within 7 days of your submission.
You can trust our A&R team to ensure that the feedback the curators send across is top-notch in terms of quality. Our approval rate is also higher than any of the other platforms. As of now, it is 36% which definitely indicates that your chances to get your track placed here are better, but note that we don't guarantee placements.
Playlist Push
Playlist Push is one such submission platform that sends your music to Spotify playlist curators or TikTok influencers - either, contingent upon what sort of a campaign you pick. Probably the only problem here is that you don't have the freedom to choose your curators, it totally depends on their algorithm that automatically sends your music to curators on the platform.
They have the absolute best third-party Spotify playlisters on their website. That is on the grounds that they're perhaps the best platform on the planet, mainly for curators. SubmitHub, by correlation, pays curators pennies; the most curators make on Submithub is three credits, and you get to keep half of that per submission, which essentially emerges to $1.50 per track.
Playlist Push, on the other hand, settles up to $15 per track, depending on how influential a curator's playlists are. Over the long run, this has an immense effect; if you can deal with 20 tracks in 60 minutes, you've made $30 on SubmitHub, however, you've possibly made $300 on Playlist Push! So it is actually not surprising that curators will gravitate towards Playlist Push more than Submithub, and it's a win-win situation for artists as well because they do end up seeing legitimate results.
Since you can't choose your curator, the steps are pretty simple here, which is to set up a campaign. Accordingly, the website does its tricks and gets you the best (if it does work out for you). And, this is where things aren't all rainbows and sunshine. A basic campaign on the platform costs $300.
Plus there's absolutely no guarantee that whichever curator Playlist Push sends your music to, will accept it and playlist it. More often than not, such curators reject the track. Playlist Push can really be the best if you want to make a mark out there on Spotify and get playlisted, but there is no denying that it is the biggest risk as well.
SubmitLink
Submitl.ink works in much the same way as SubmitHub, it's principally centered around playlisters as opposed to bloggers. You get to choose the curators you need to send your music to, and afterward, those curators tune in and give their responses to you. It has an average approval rate of 19% which is not too bad.
There's truly one fundamental issue with SubmitLink, and that will be that there aren't a lot of curators on it yet but that might be a good thing if you're an artist since they've only got the best of the best on their platform. SubmitLink is run by the same team that runs Artist.Tools, which happens to be the best site for tracking down playlists and playlist curators. The group is extremely centered around transparency and convenience. you get to pick precisely who your music is submitted to.
If you'd like to start a campaign on SubmitLink, feel free to use this link to get started.
Try to understand how each platform works, and its pros as well as cons. While every platform has its downsides, try to gauge which ones may work the best for you and which ones will only be a waste of time, effort, and money.
We at GreaseRelease, have a bunch of curators on our network who are looking for new & exciting music to push on their massive playlists. If you make music and want to reach a wider audience, check out our submission platform and get a chance to reach millions of listeners! Submit your tracks now!
Don't miss my newsletter!
Join me on a music entrepreneurship journey with new tips and tricks delivered straight to your inbox.
We hate SPAM. We will never sell your information, for any reason.